 We're so proud of Charleston . Read the Press...
Search »




The

Charleston SC MLS



for current property values, real estate listings & homes for sale in Charleston, South Carolina.
IIf you need some help navigating the areas, and understanding what the various Charleston area communities offer, then start your education here.
View the TOP TEN
most expensive » Charleston area real estate. These are the most expensive luxury homes.

We feature waterfront, luxury and historic Charleston real estate.
View the Charleston listings below to get a feel for the area beaches, historic district, and waterfront communities.
Learn about the high-end Charleston SC real estate in Isle of Palms, Mount Pleasant, Daniel Island, Wild Dunes, Folly Beach, Kiawah Island, Seabrook Island, and Sullivan's Island.
Begin by exploring a few of our most popular property search links.
Beach & Waterfront »
Review Charleston waterfront, oceanfront beach homes on the market in Charleston South Carolina.
Historic Charleston »
Browse Charleston SC real estate in downtown Charleston and historic homes below Broad known as " South of Broad "
Find luxury Homes for sale in Charleston, Mount Pleasant and Daniel Island, waterfront real estate on the Intracoastal waterway.
Review our historic real estate ». Discover Charleston real estate on the beaches, waterfront properties and beachfront.
Explore golf courses in the Isle of Palms, Charleston, Mount Pleasant, Daniel Island, Kiawah, Wild Dunes, Folly Beach and Seabrook Island communities.
Search for Charleston South Carolina real estate by accessing our MLS search pages. Relocation, moving, and apartment information is available on our Charleston real estate site.
Need more information about Charleston real estate? Find out how to have your home listed in the Charleston area MLS.

We are happy to provide a list of recently sold properties based on current market conditions in the entire Charleston market.
We specialize in high-end luxury real estate in the greater tri-county area.
Download a free
SOLD HOMES REPORT »
Charleston Area Homes
recently SOLD »
EXPERIENCE
* Our Favorite Charleston Videos
LUXURY LAND & HOMES
1.866.957.9100 Toll Free


Whether you're buying
or selling ...
Charleston real estate, a new home or SC historic real estate, Eve can help focus your search by providing custom tailored MLS listings results based on your specific guidelines and criteria. Eve focuses on the finest historic Charleston properties as well as beach, waterfront and luxury real estate in private golf course communities within the Charleston SC area.
WE SPECIALIZE
in Daniel Island, Mount Pleasant, Kiawah Island, North Charleston and Seabrook Island, Folly Beach, Edisto Beach, Wild Dunes Resort as well as Sullivan's Island, Wadmalaw, Summerville, James Island, West Ashley and Johns Island real estate in Charleston county.
Eve is a Charleston real estate agent, broker, and professional who specializes in selling high-end luxury waterfront real estate.
High-end historic real estate is alive ...
and well in the diverse Charleston real estate market and major cities across the USA with luxury home sales. Search Charleston's Five Star properties; These are Eve's luxury home picks.
The Charleston real estate market
Excitement is growing as we enter Summer 2016. Fueled by tourism, many visitors fall in love with the City of Charleston and later find themselves in the market for a piece of Charleston history or a slice of the beach whether it be a modest golf course condo or an expansive beachfront home.
There's something for everyone in this highly sophisticated pedestrian southern town with a European flavor and an apparent predisposition for luxury whether it be the historic real estate, fine dining, or the arts. Refined luxury living and culture abound in Charleston SC.
Charleston Area Communities
Daniel Island Information
Learn about Daniel Island , the golf course, new construction, new homes for sale.
Wild Dunes »
Find out about Wild Dunes real estate, a waterfront golf resort on the Isle of Palms.
Kiawah Island Resort »
Kiawah Island properties on the beach, golf course, and more.
Dunes West Homes »
View Dunes West waterfront homes in Mount Pleasant.
Mount Pleasant »
Search all Mount Pleasant real estate, waterfront and new homes for sale.
View oceanfront villas, condos, and golf course properties inside the Wild Dunes Resort.
Kiawah Island »
Discover Kiawah Island real estate, beach investment properties, oceanfront condos, and more. City of Charleston golf course real estate and waterfront lots for sale on Daniel Island.
Public and private Schools information
Bed & Breakfast, lodging in downtown Charleston South Carolina
Oceanfront, vacation, waterfront real estate listings
MLS Search Form »
Customized Assistance to produce the best property selections on your behalf. Expert Charleston MLS query for real estate listings.
View New Listings »
The New Listings Today... Pot Luck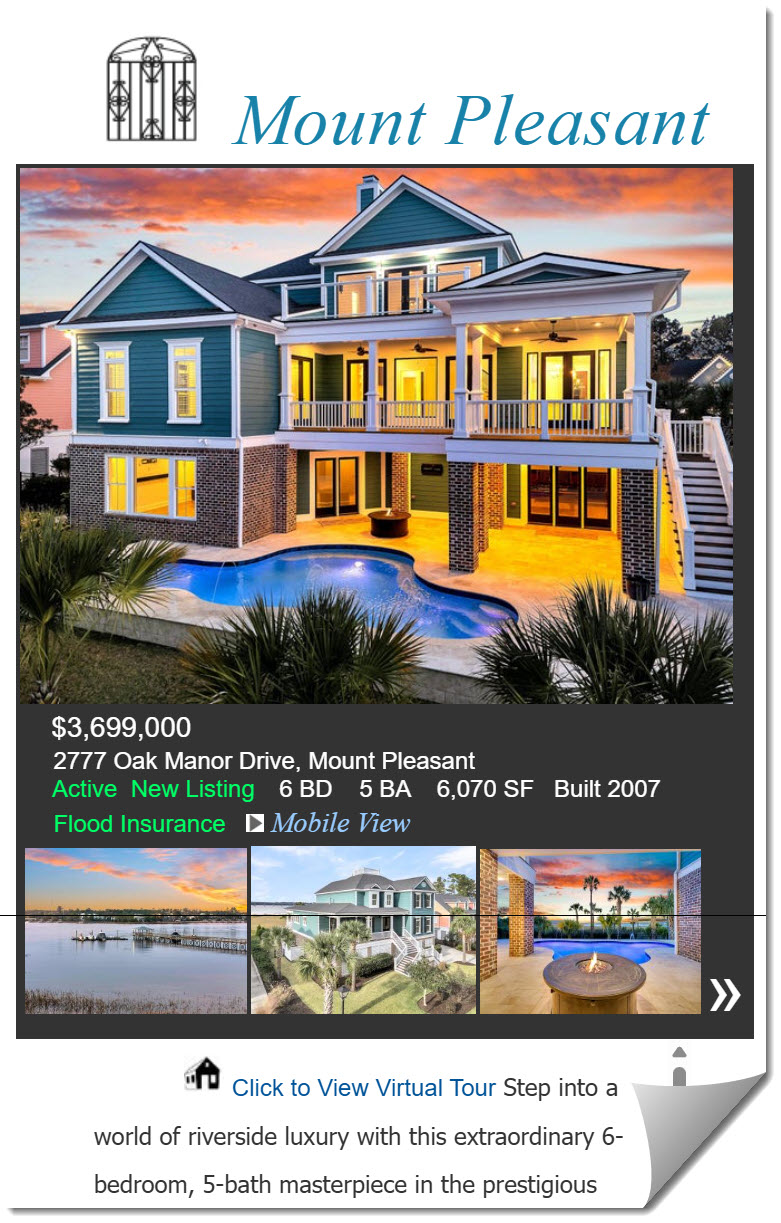 Discover Your Charleston Style »
Match Your Lifestyle to a Property
Take the Plunge
Real Estate On The Waterfront.
Starter Homes
with a flair ... Median Priced Homes
Have a Boat?
Homes with Boat Ramp ... In the Neighborhood
Quaint Cottages
Off the Beaten Trail ... Charming Places.
Perfect Pied a Terre
Keep it simple with an Over The Top ... Condo
Historic Charleston
South of Broad... Creme´ de la Creme´
Country Property, Equestrian
Get Away From It All... Doctor's Orders
Want a piece of History ?
It's on the market ... Now

Charleston South Carolina
Downtown Charleston Historic Neighborhoods.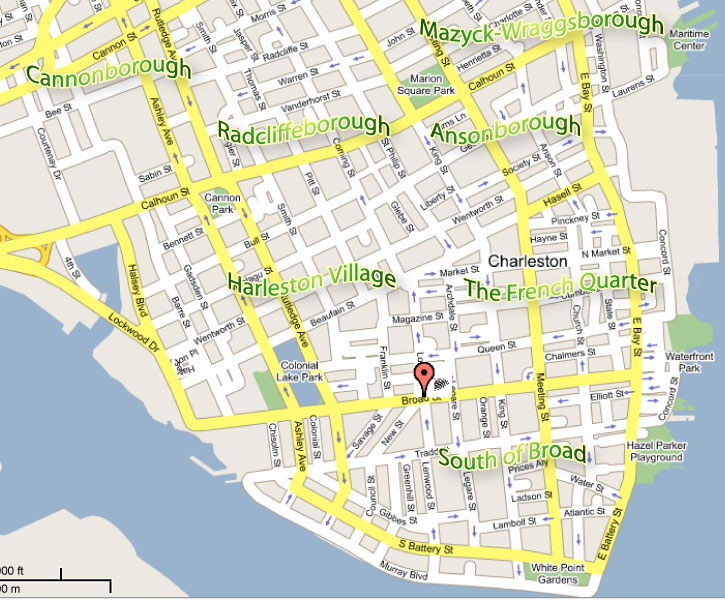 Click on Map to view Historic Charleston neighborhoods
The Charleston real estate market is brimming with the best of both worlds with an expansive coast line with exciting waterfront properties and golf course communities as well as the famed downtown Charleston South Carolina historic district which is comprised of various boroughs or sections such as South of Broad, Harleston Village, The French Quarter, and Ansonborough each with its own distinctive flavor and all with wonderful historic homes and renovated buildings, plantations and colonial luxury waterfront estates. Experience our historic Charleston real estate. Browse Charleston's historic real estate currently for sale.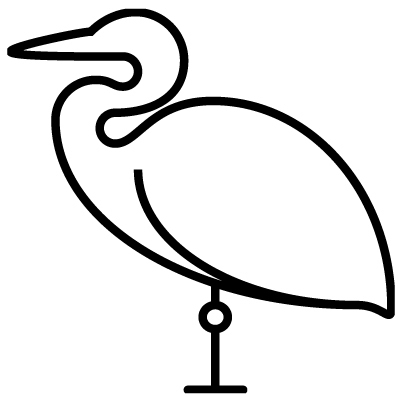 RELOCATION BY CHARLESTON REALTORS ®
charleston sc realtor®
Contact Eve Olasov, BIC
President/Owner

LUXURY LAND & HOMES INC
Charleston, South Carolina 843-345-8267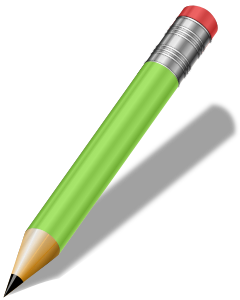 Leave A message
we'll point you in the Right Direction